Sonic the Hedgehog Doujinshi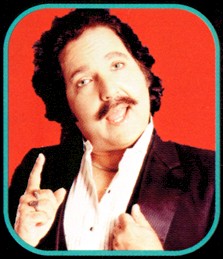 Sonic the Hedgehog - Sega's blue mascot
doujin / doujinshi - Japanese fan manga, often of video game and anime characters
hentai - Japanese for pervert or perverted
Put it all together and what do you get? Fun for the whole family! ... Or not. Anyway, take a look at some of the best stuff to come from Japan since panty vending machines and Ka, the mosquito simulator!
---
"Ganbare, Sonikku!" - "Do your best, Sonic!"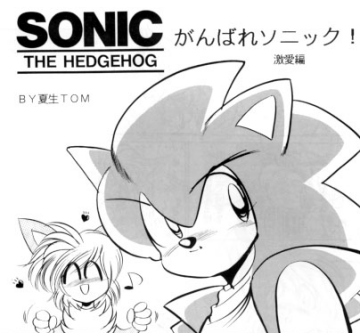 Weeee! The doujin that started it all! This one has been around for a while, yet it never ceases to disturb those who have never seen it before. =)
Basically, Tails admits that he is in love with Sonic, and then the-----
"EWWW! SONIC AND TAILS???"
... That's right. Sonic and Tails. Oh, umm, by the way, Tails is a female in this doujin. =P Heh. Quite sexy too. ... ... *ahem* In any case, judge for yourself.
Sonic Hentai Doujinshi, HTML page
Or here's the ZIP of the doujin:
Sonic Hentai Doujinshi, ZIP, (645K)

A long, long time ago, I started to translate this. I didn't get past the second page. =P But that's ok, since the second page explains most of it. However, I've improved quite a bit with my Japanese, so this older translation may not be 100% accurate... =/
BORISZ SEZ: someone else appearantly translated the whole thing, so Sonic Hentai Doujinshi, translated, rared, (595K)

---
Sonic and Tails - by Koushi Rikudou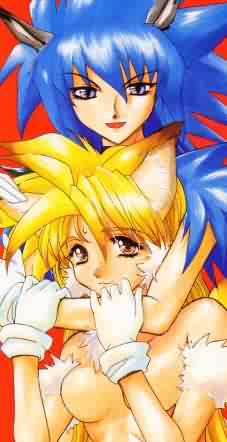 Just when you thought that FIRST doujin was the weirdest thing you'd ever seen, they go and bring Knuckles into the fray. Unfortunately, this ti--
"EWWWWWWW!! SONIC, TAILS, _AND_ KNUCKLES!??"
... That's right. All three of em... and they're ALL female this time, with a large touch of humanity added. =P HOWEVER... No sex =/ Just lots of nippless nudity. This one is exceptionally long, 70 pages, with a brief non-Sonic, Samurai Spirits story from pages 22 to 29. I haven't gotten around to even TRYING to absorb any of the story. I DO know that Mecha Sonic MK-II makes an appearance... Anyway, I'll translate some of it later, maybe. =/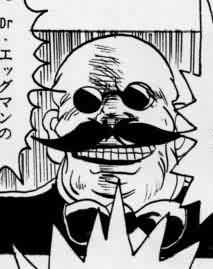 Eggman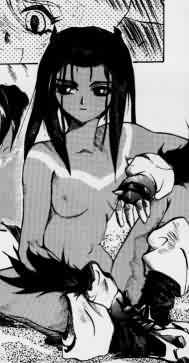 Knuckles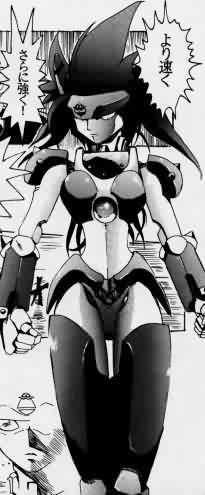 Mecha Sonic MK-II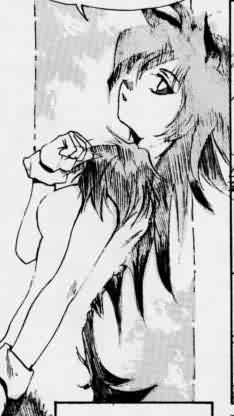 Sonic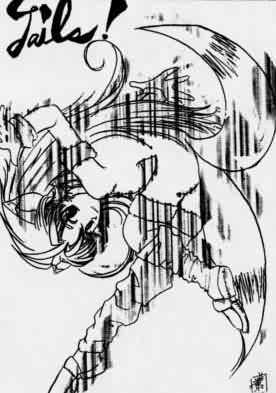 Tails


---
Galactica Nantonaku - by Koushi Rikudou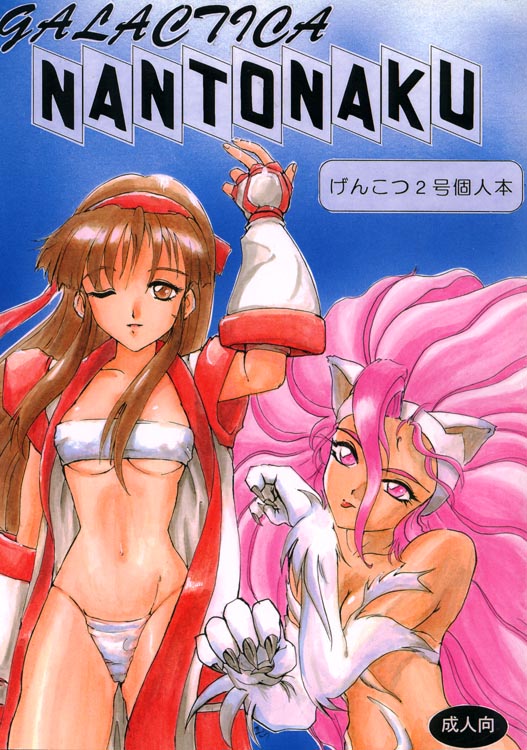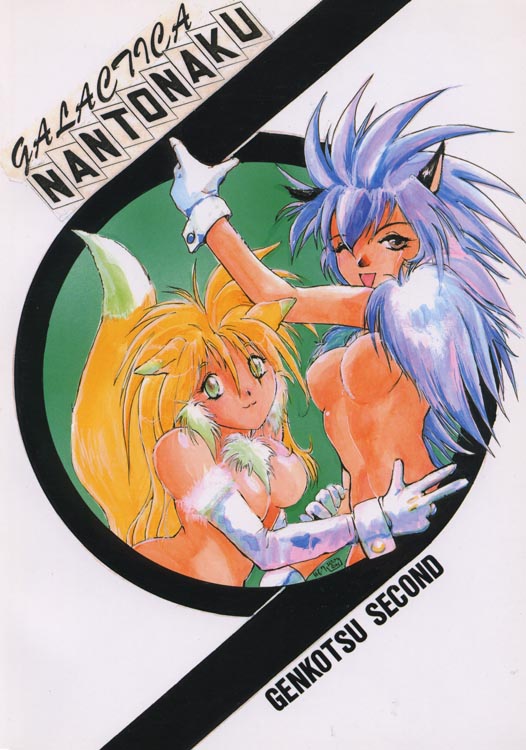 Amazingly enough, Rikudou of Excel Saga fame made more Sonic artwork. Left is front cover, right is back cover. No clue if this doujin had Sonic stuff inside of it, but it came before the above Sonic and Tails book (Sonic and Tails - 1997, this book - 1994 aug.). It's 84 pages, no known scan for this book so far.
---
Sonic 2 Advanced Girls - by Koushi Rikudou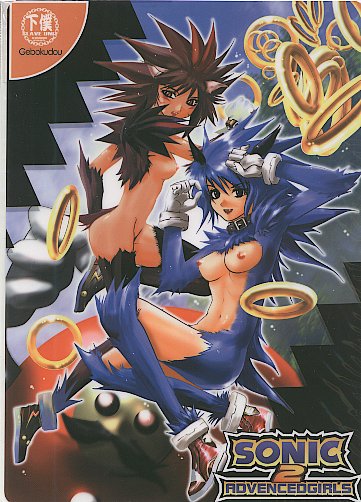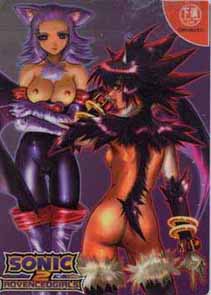 Left is the front, right is the back. Released by the Gebokudo doujin circle (as well as most of Rikudous other doujins). Appearantly this is not even a doujin, just a pencil board. no scans.
---
Urabon Final Edition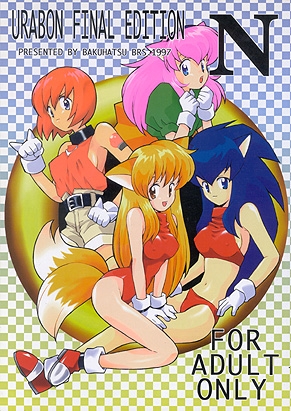 Urabon Final Edition a.k.a. Urabon 7 is the 7th in the Urabon series, although the first 6 have nothing at all related to Sonic in the least. This is the last of the company's Urabon series. Their website still exists, but is totally unhelpful. No scan either on this one.
---
Ore no Natsu series by Tojyo (yes, that tojyo)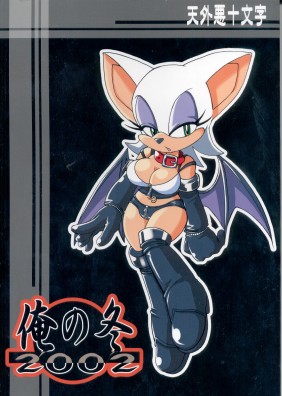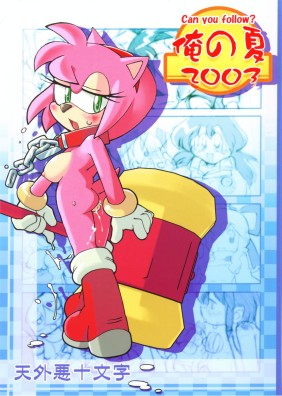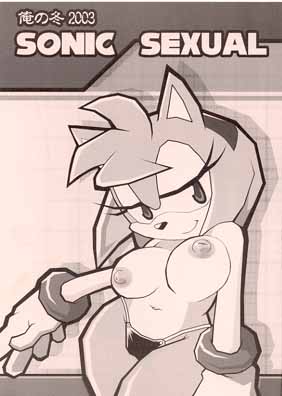 Ore no Natsu roughly means My Summer. These books are made by the same Tojyo who pulled down his gallery because people reposted his pictures. (Welcome to the internet, jackass!)
Ore no Natsu 2002 is just an art book with very little or no storyline. Most of the Sonic related pics are the same as the Tojyo pics already floating online, just in black & white. There is a shitload of other stuff in it though, ranging from Digimon Adventure to Digimon Tamers to Keio Flying squadron to Bomberman Jetters to Starfox to Gunbird to Samurai Pizza Cats (??) to god knows what else. The art is the same out of proportion style that you know from the rest of his works, but fortunetaly there are no anal beads this time. There are enough furrys in this one already, plus it's over 80 pages long.
Ore no Natsu 2002, RAR, 55.9 MBs
Ore no Natsu 2003 was errorneusly marked as 2001, because the front cover uses some shitass unreadable font. The book itself, again, is an artbook, no storyline, just illustrations. Less non-sonic artwork is used this time, but more anal beads and similar accessories. The artwork is the same ugly piece of crap as ever.
Ore no Natsu 2003, RAR, 9.68 MBs
Ore no Natsu 2003 - Sonic Sexual is the last of Tojyos three sonic-orientated doujins. Let me go out and say right here, that this is shit. It's mostly an art book, with only 5 pages of a substory. Since most of it is art, almost all the sonic females are in it, even one picture of classic amy. However, Tojyo seems to have an obsession with anal beads. He fucking loves them and uses them frequently. Expect to see Sonic, Tails, Knuckles, Amy, Classic Amy, and others all enjoying them.
Ore no Natsu 2003 - Sonic Sexual, RAR, 10.8 MBs

---
Furry Bomb series by Mitsuharu Takura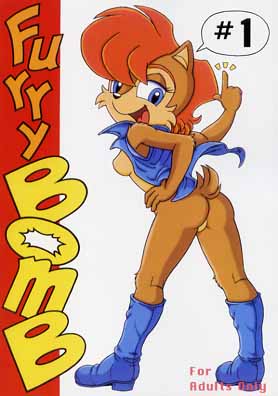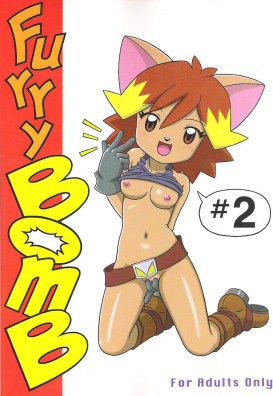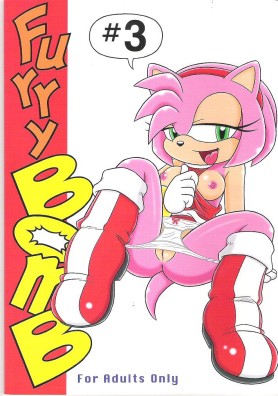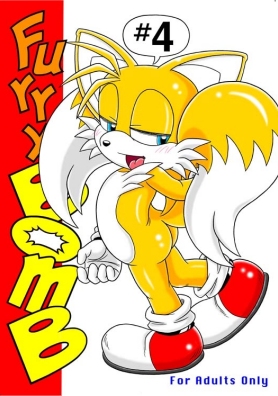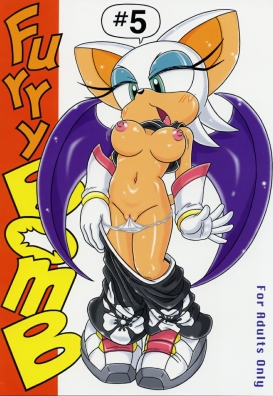 Here is the current controversial trend for sonic hentai (losers) collectors, the Furry Bomb series. Highly controversial, as the drawings are pretty well done but the comics are a bitch to find.
As it is, all of them have a "Please do not copy, scan, upload and show minors this doujinshi" warning in them, which most scanners honored. But not everyone (in fact - as of 2007, people only buy this so they can scan it!), and the issues ended up on the internet. After the issues were posted on numerous public sites, the author claimed many times to give up on making sequels, yet issue 2, 3 and recently 4 AND 5 still came out, so whatever.
Interestingly, all of the Furry Bomb books are read from left to right, which is something very unusual for japanese comics.
Anyway, the warning says to not copy/scan/upload and show minors these books. Therefore, we can only show you download links as long as you are not a minor. Do not click the links if you are a minor, because then we have to take them down.
- Furry Bomb #1:
Pairings in this are Sonic X Amy (then Sonic X Amy X Tails(...)), Rouge X Sally, Sonic X Rouge X Sally, Sonic X Sally. Notable as the only doujin to have Sally (that we know of). The artist has asked for no one to scan them, so here are the scans.
Furry Bomb #1, ZIP, 16.7 MBs
This is a proper scan without the crap quality and missing pages that the previous scans had.
- Furry Bomb #1.5:
Cover, samples: 1 2 3 (no scans of the whole thing yet)
hand-made book, appearantly it was mass produced a standard copy machine and only 10-30 copies were made. 12 pages, "released" at 2004 april, it's basically a sketchbook version / preview of...
- Furry Bomb #2:
Unlike the rest of the series, this is a Bomberman book.
All the interest I had in Bomberman faded away at the endboss of Saturn Bomberman which was impossible to beat, therefore the only description I can give is that the book features characters from Bomberman Jetters, the girl is Misty and the guy is a punk wierdo in a cyber helmet. Released in 2004 august.
Furry Bomb #2, RAR, 14.1 MBs
- Furry Bomb #2.5:
Another hand-made copy-machine book with next to no copies around. Amy gets boned by Sonic and Cream too for at least as long as 1 panel. Done at 2004 december, it's just a few pages of drawings.
Furry Bomb #2.5, ZIP, 3.78 MBs
- Furry Bomb #3:
This one mostly features Tails and Amy (in every way, with Tails using his helicopter rotor technique), and then, Sonic and Tails and Amy (guess who is in the middle). With a few pictures of Rouge and others. Released at 2005 September.
Interestingly, there is a picture that strikingly resembles a page from a certain Digimon doujinshi titled Digi Tama #1:
Page from Furry Bomb 3 compared to Page from Digi Tama 1
Furry Bomb #3, RAR, 76 MBs
This is an exclusive super high resolution scan from... uh, I forgot who. If whoever scanned this could be so darling to contact me, I shall provide credit.
- Furry Bomb #3.5:
Another hand-made copy-machine book with next to no copies around. Just a few pages of drawings as usual, including generic furries other then sonic: most notably, Deputy Mayor Callie Briggs from Swat Kats (!!). One of the pictures from this issue made it to #5 as well.
Furry Bomb #3.5, ZIP, 1.45 MBs
- Furry Bomb #4:
#4 was released in 2006 August 13, and has 22 pages. It has Shadow doing guns and doing Tails. And that's about it. Also a few pages with sonic/amy, and a fanart page from a "Steve Furfag" - whoever that is.
Furry Bomb #4, ZIP, 3.24 MBs
- Furry Bomb #5:
Released in December 2006 with 21 pages, the 5th issue was supposedly sold on Comiket 71 (Comiket - abbreviation of COMIc marKET, Japans and the worlds biggest comic book convention, held bi-yearly. Comiket 71 took place between 2006 December 29 to 31.). The book has a VERY short story (maybe 4 pages in total) with Jet the Hawk and Wave the Swallow (from... that surfboard PS2 game, what was it called again? Sonic Rush, or Sonic Riders? It's getting darn hard to keep track of the continously convulving Sonic series...), and many art pages of various characters: Amy (in business suit and miniskirt with Sonic), Blaze (with Sonic), Cream (with Blaze), Rogue (with cocks), Sonic (with Vanilla), and Tails (with cocks). Few copies were produced, as usual.
Furry Bomb #5, RAR, 12.17 MBs NOTE: This is the unedited version with Page 20 intact.
- Furry Bomb #4.5:
#4.5 was released in 2007 August 19, but only scanned recently (november), which explains the swimsuits in the book. No idea why it's numbered as 4.5, perhaps the .5 releases follow their own series. It's a whole 4 page long minibook - half of that are the covers. We only have a watermarked scan with pretty bad greyscale levels (original cover title by author included for comparison), but its really not worth even that much. I mean, what idiot would go as far as putting his own logo on 4 pages of crap?
Furry Bomb #4.5, RAR, 3 MBs


UPDATE: We recieved an email from Mitsuharu Takura asking us for... something. I can't really understand through the Engrish. Nevertheless, my comments are in green.

From: Mitsuharu Takura Sent: Fri Mar 02 17:07:30 2007
Subject: Quit to upload Furry Bomb doujinsies!!
This e-mail from JAPAN. I'm Mitsu Takura,Furry Bomb doujinshi artist. My friends taught me my doujinshies all pages uploading in Sonic cult site. Did you see Furry Bomb's last page? I wrote"Please don't copy,scan,upload~this doujinshi!!!". Want you to upload Furry Bombs. Please quit to upload Furry Bomb doujinshies. If you don't quit to upload,I'll quit to draw Sonic adult.

Alright so let me break this down
This e-mail from JAPAN.
Holy shit an email from JAPAN. This deserves special attention!

I'm Mitsu Takura,Furry Bomb doujinshi artist. My friends taught me my doujinshies all pages uploading in Sonic cult site.
I'm sorry, I can't control it if all your doujin pages feel like uploading themselves. Maybe you should train them better. Your friends seem like they enjoy teaching you things. Maybe they can teach you how to properly train doujin pages!
Did you see Furry Bomb's last page? I wrote"Please don't copy,scan,upload~this doujinshi!!!".
Oh that's okay then, we're only uploading them not copying and scanning them. I thought we were doing something we weren't supposed to do. Phew!
Want you to upload Furry Bombs.
Way ahead of you.
Please quit to upload Furry Bomb doujinshies.
..but... you just said... Oh whatever
If you don't quit to upload,I'll quit to draw Sonic adult.
That's okay then, most of the characters are underage, that means you can keep on drawing them. Can't wait to see Furry Bomb #6!
---
Godzilla vs. Currytaste by Kacchu Musume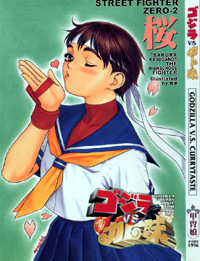 Released in 1996, 267 pages.
Kacchu Musume is a doujin circle that mostly does fighting game books, but they often write about quite obscure games as well, such as Kikikaikai (aka Pocky & Rocky) or Alisia Dragoon. This book in particular, has a short Sonic the Fighters story, "with the characters portrayed as catgirls/hedgehog-girls". The covers and many illustrations in this book were done by Tsukasa Jun himself (who is a member of the Kacchu Musume doujin circle), but unfortunetaly the Sonic the Fighters part was not. For more info, hires covers and (non-sonic) samples, please check the long range bullet, a Range Murata / Tsukasa Jun fansite.
I know of no existing scans for this book.
---
8bit (hachibitto) - Anthrotama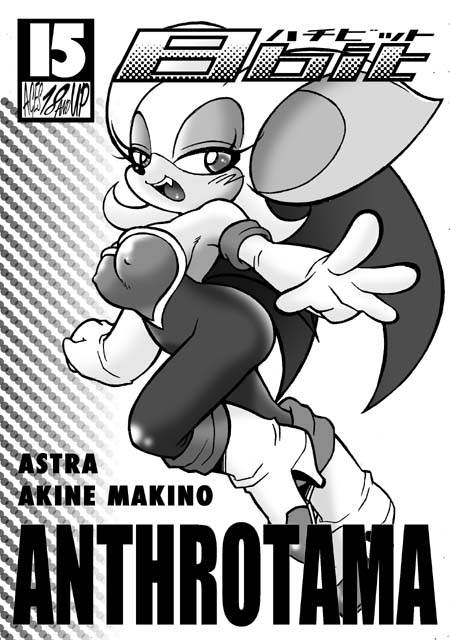 "Anthrotama". No clue. Most likely not even a real doujin (source).
---